Ferrari, Renault, and Honda have all introduced upgraded engines at the Canadian GP. Mercedes introduced its new specification 2.1 engines at the French GP, one race later. Renault has introduced a "party mode" for their engines for qualification at the Austrian GP.
Power Unit Elements Usage So Far in 2018
In the 2018 season only three engines are allowed for 21 races. So managing the engine usage throughout the season without incurring engine penalties is vital for drivers and teams.
The rules for the usage of the six Power Unit Elements that constitute the F1 engine for 2018 is: Drivers can use 3 ICE (internal combustion engine), 3 TC (turbo charger), 3 MGU-H (motor generator unit heat), 2 MGU-K (motor generator unit kinetic), 2 ES (energy store) and 2 CE (control electronics) without penalties.
Engine Usage Before the Austrian GP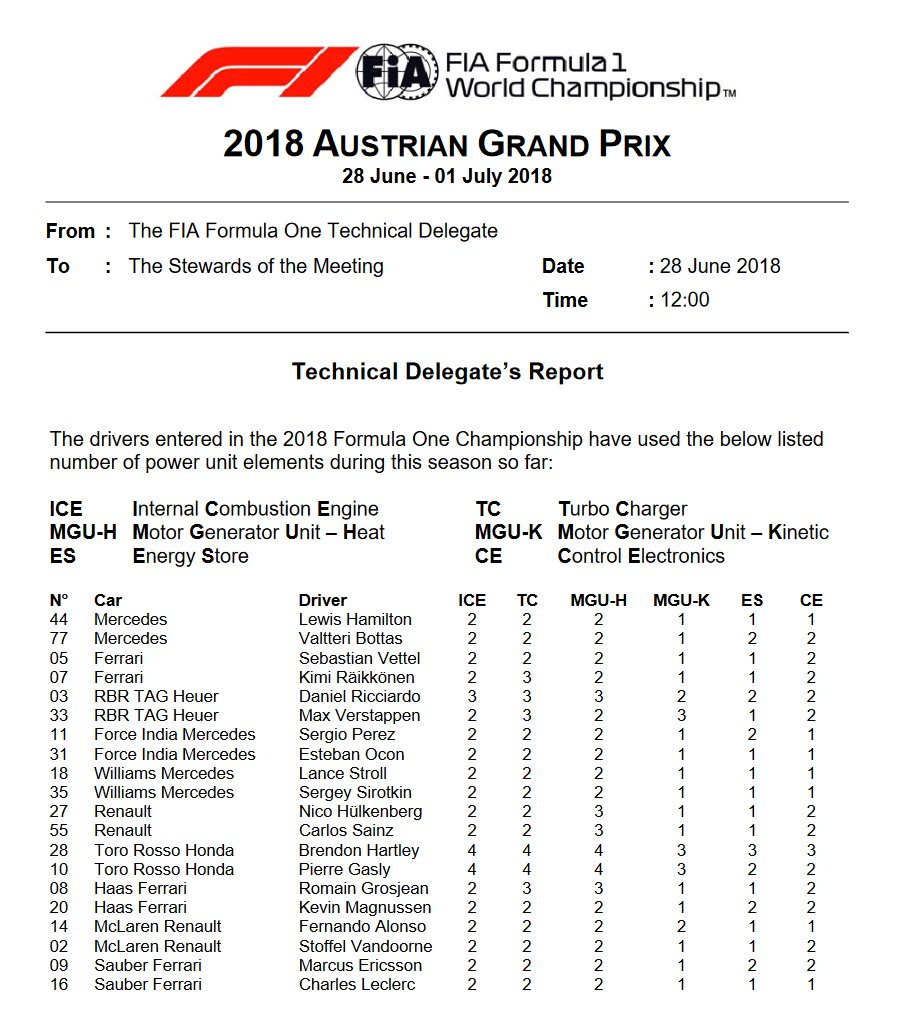 All the Mercedes drivers, works team and customer teams, are on their second PU elements after eight races. The Toro Rosso drivers powered by Honda have already incurred engine penalties. Pierre Gasly and Brendon Hartley are on their fourth ICE, TC and MGU-H so early in the season. Daniel Ricciardo is on his third unit of these three elements. The Australian might have to take engine penalties later in the season.
FIA Engine Regulations
If a driver uses more than the allowed number of elements for each component of the Power Unit (PU) these are the penalties:
The first time a driver uses an additional element over and above the prescribed limits, a ten-place grid penalty will be given. If he then uses other additional elements a five-place penalty (or penalties) is imposed. Use yet a further example of any given element and another ten-place penalty is received – and so on.
During any single event, if a driver introduces more than one of a power unit element that is subject to a grid penalty, only the last element fitted may be used at subsequent events without further penalty.
Drivers will try to manage all season with the PU elements allowed and avoid penalties. If penalties have to be taken, drivers will take it at tracks where overtaking is easy like Spa.